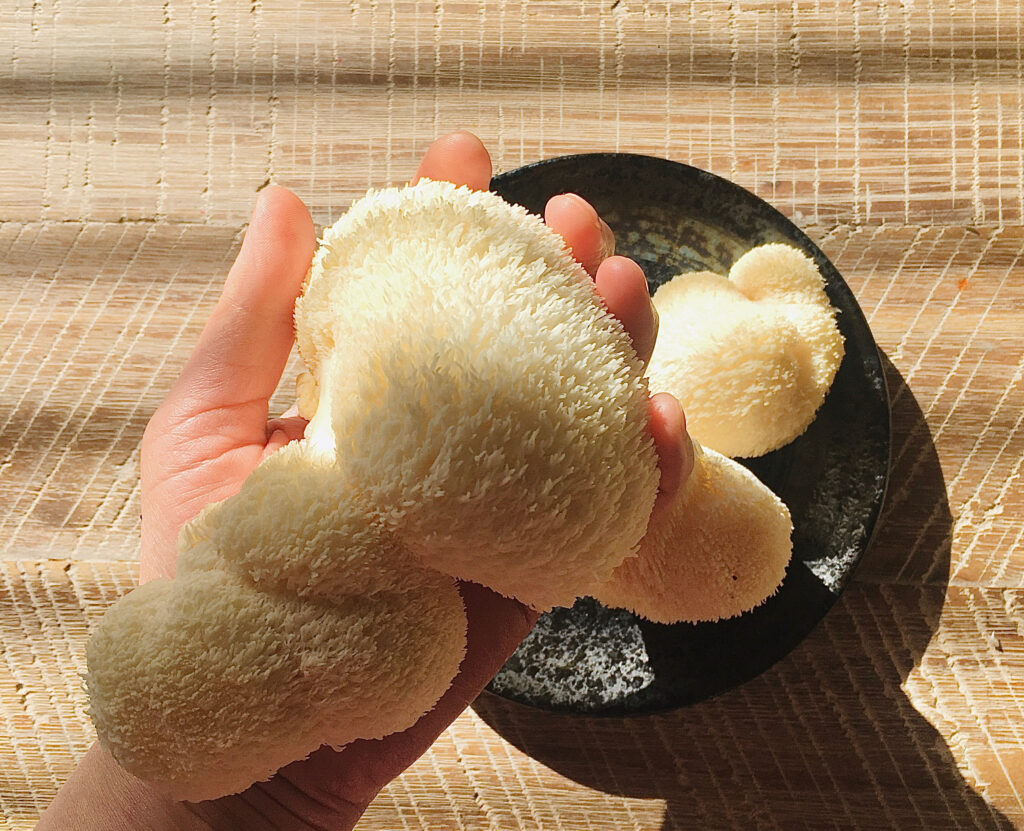 As someone keenly interested in avoiding dementia in my future I am always searching for the best Lion's Mane mushroom powder out there. Studies have shown solid data that Lion's Mane can help reverse the effects of dementia and Alzheimer's, see our in-depth analysis of the best scientific study of the effect of Lion's Mane mushroom powder on cognitive decline here.
To get my daily dose of Lion's Mane I chose to add it to my coffee. I've put different Lion's Mane Powder in their coffee every day for the last few years. I've tried a bunch of the leading mushrooms powders, and here's what I found:
Best Overall Lion's Mane Powder – Fungi Perfecti Lion's Mane Powder
Perhaps the most famous man in mushrooms, Paul Stamets, runs Fungi Perfecti. Fungi Perfecti is one of the oldest and well known sellers of mushroom products in the US and sells under the name Host Defense. They grow their mushrooms with the utmost quality and care in the US, and when you buy from them you can be confident you're getting a superior product.
They hold an impressive 4.8 star rating on over 800 reviews. One important note – they make their powder from both the fruiting body of the mushroom and the mycelium. When asked on Amazon, this is how they answered:
Host Defense has done a massive amount of research to make these supplements as potent and effective as possible. They have found that the mycelium is the most effective at helping with the conditions addressed with each product. Some products do contain fruit body as well. Host Defense uses mycelium because the mycelium contains the higher concentration of the nutrition of the mushroom, and also produces compounds that are not found in fruiting bodies.

Amazon answer
Additionally, they provide this link to back up that claim: https://hostdefense.com/blogs/host-defense-blog/immune-benefits-of-mushroom-mycelium-cultured-substrate-confirmed. They grow their mushrooms on cultured brown rice, which is different from log-grown lion's mane, or mushrooms grown on wood chips.
Conclusion – Our Top Choice
Even though it includes both mycelium and the fruiting body, Host Defense Lion's Mane powder comes in as our top choice. Paul Stamets is a legend in the mushroom world and his operation produces the highest quality mushrooms. They grow their mushrooms in the US and have produced quality mushroom supplements for decades.
Best Chinese-Grown Lion's Mane Powder #1 – FreshCap Mushrooms
Next up is FreshCap Mushrooms Lion's Mane Powder. The price is around $28 for 2 ounces of powder, or $14 per ounce. The powder is very light colored, which is a good sign of quality for Lion's Mane mushroom powder.
Digging deeper, they have a very nicely-done website with a full story on their views on quality here – https://freshcap.com/pages/quality. On it they state:
You deserve mushrooms that will actually make a difference. Mushrooms that are grown organically, sustainably, and with the care and attention that can only come from generational family farms dedicated to quality….

…That's why we source our mushrooms from deep in the mountains and forests of China, a place with a rich history of mushroom cultivation. Using 100% certified organic farming methods, our cultivation partners grow whole fruiting body mushrooms naturally and sustainably.

FreshCap.com
Personally I'd love if they grew it in the US, but at least they state they import from China up front. I like the fact that they explain who's behind the company and their organic and science-based approach.
They Amazon reviews carry an impressive 4.6 stars on almost 400 reviews. Here's a quote from verified reviewer Donny:
It's hard to grow this mushroom indoors in southern california, so I bought this powder and it's 100% what I expected. The taste/smell/consistency of this powder is way better than what I grew at home, but I'm new to the science and this company is pro. They even have instructional/educational videos on youtube. Check them out!

Amazon review
Conclusion – A Great Option
Although they import their mushroom powder from China, FreshCap takes quality seriously. Real people stand behind the company and they care about their product. I highly recommend.
Best Chinese-Grown Lion's Mane Powder #2 -Terrasoul Superfoods Lion's Mane Mushroom Powder

Next on our list is the lion's mane powder from TerraSoul. Like FreshCap, TerraSoul appears to be a very solid company that cares deeply about quality. Their About Us page makes it clear that their founders, Dennis and Amy Botts value food quality, sustainability, and doing the right thing. Here's a quote from that page:
Each ingredient is used and loved by our employees, friends and family, and integrity of the product is of the utmost importance. We do not just rely on the industry standard manufacture certificate of analysis. We independently test each imported ingredient at our laboratory for heavy metals, organic purity and biological contamination. We are SQF Level 2 Certified with an excellent rating and hold organic, kosher, and Non-GMO Project verified certifications.

TerraSoul.com
They make their Lion's Mane mushroom powder from the fruiting body of the mushroom, which grow on hardwood logs:
Our mushrooms are grown on hardwood logs, from where the fruiting mushroom body (not the mycelium) is harvested and water extracted to produce a deeply potent tonic powder.

TerraSoul.com
They source their mushrooms from China. Here's how they answered that question on Amazon:
The country of origin for our Lion's Mane Mushroom Powder is China. All of our products go through multiple rounds of testing and we only select a supplier in China if we know that it is the best product out there.

Amazon answer
TerraSoul Lion's Mane powder carries an impressive 4.7 star rating on Amazon with over 400 reviews.
Here's what verified reviewer Andrew S said:
I wrote the company with several questions, they were extremely quick to reply, and their answers, were exactly what I was hoping to hear!! So, according to them, beta glucan content is 30 percent, which is quite good! Also, the product is, the mushrooms are extracted with water, which is what you want….furthermore, the original mushroom material is also kept in the final product!!- ensuring that you get all beneficial compounds, similar to a double extraction, but without the need to actually double extract with alcohol. So, this is absolutely what a lions mane extract should be.

Amazon review
A few negative reviews mentioned the quality of the bag, but the vast majority of the reviews said positive things.
Conclusion – Another Great Option
Although they also import their mushroom powder from China, TerraSoul takes quality seriously and they offer helpful, responsive customer service. They lab test every batch for heavy metals to make sure the end customer gets the best product.
I highly recommend.
Not Recommended – MicroIngredients Organic Lion's Mane Powder
At first glance the MicroIngredients Organic Lion's Mane Powder seems like a great deal.
Price? About $3 per ounce, significantly less than other brands.
Organic? Yes!
Grown in the US? Yes! They say so right on the Amazon listing: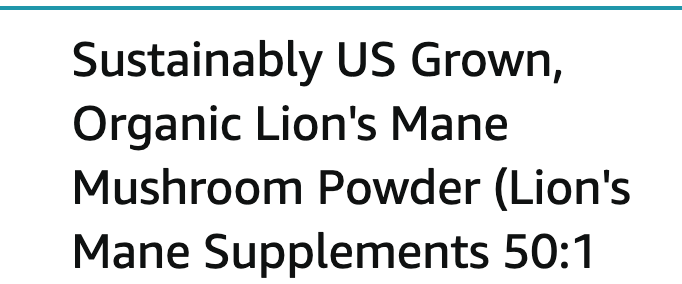 So does the evidence back up their claims? Let's find out.
First, what do the reviews say? The product carries a 4.6 out of 5 star ratings on Amazon. That's great. But, is does it tell the whole story?
Here's a quote from verified reviewer John G, who gave a rating of 5 stars:
I use this product for cognitive enhancement, and after a couple of weeks or using it, I can definitely tell the difference. I have been taking it 3 times per day, without fail, along with about 1800 mg per day or pure circumin, (with piperidine added) and 300 mg daily of pycnogenol. I know the benefits of the last 2, but this combination is the absolute holy grail for people who are nearing their 60's. Don't just live longer – live BETTER!

amazon review
On the other hand, here's a quote from a verified purchaser who gave a rating of 1 star:
Not quality lions mane, the texture color smell and taste are off and when I asked questions about it I never received a response.

amazon review
A Few Warning Signs
Something is very fishy about this Lion's Mane Powder. Note: We previously said that the coloration was brown and therefore of lesser quality. We learned that color doesn't matter that much. We apologize for any confusion.
Thrown off by the fishiness, I tried to track down the company to ask them a few questions. The first thing I noticed is that address on their website does not match what's on their package:
I looked up both addresses in Google Street View, and neither building looked like a mushroom growing facility.
Is It Grown In The US? Is It Organic?
I reached out to the company to ask, but they refused to answer. See emails below: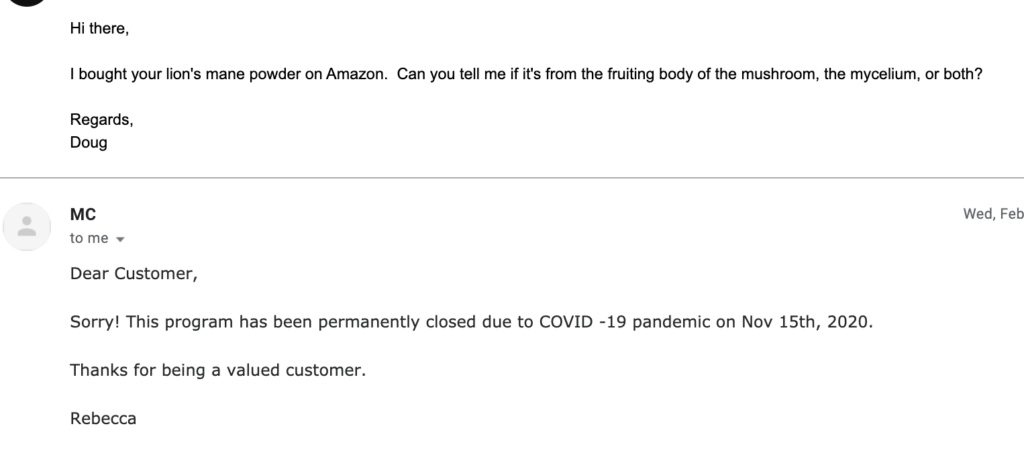 And…

They never answered the last questions. Given the facts below, I highly doubt that this product is organic or grown in the US.
Very little information about the company on the website. Compare this to a real US grower like Fungi Perfecti
They did not respond to my direct questions about where they grow their mushrooms
Multiple addresses for the company
Given that information I have to conclude that it's very unlikely that this powder is US-grown or organic. Buy at your own risk.
Another Option – Lion's Mane Tincture
NorthSpore Lion's Mane Tincture
NorthSpore is a wonderful mushroom company based in Maine. We buy their growing spores to grow our oyster mushrooms in used coffee grounds. They outsource their growing to China and offer a bunch of amazing content and guides. Here's what they have to say about buying from China:
"The mushrooms used in our tinctures grow directly from the blocks, are harvested, dried and extracted, typically in hot water and alcohol. The finished medicinal mushroom extract is entirely derived from the mushroom. No grain. No fillers."
They don't offer Lion's Mane powder, but they do offer a Lion's Mane Tincture.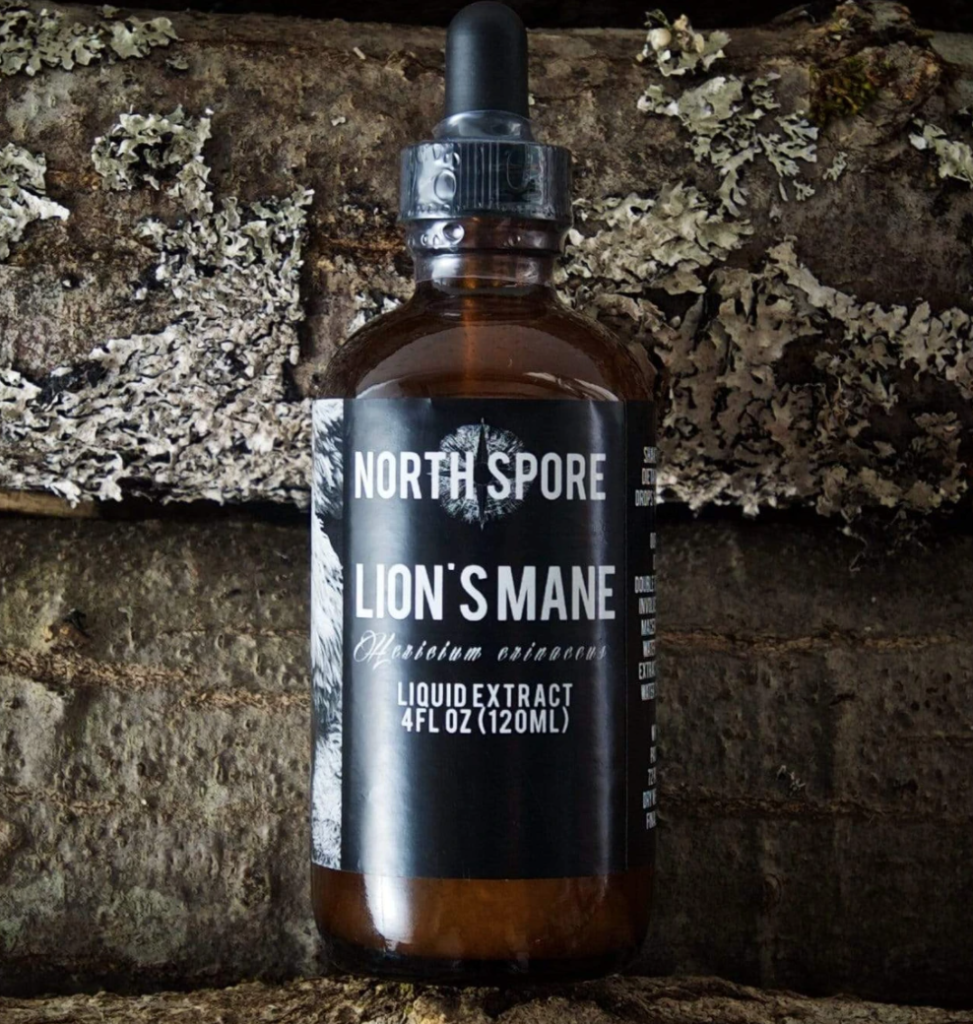 At the time I write this it costs $38 for four ounces, or $9.50 per ounce. I haven't tried it yet, but definitely will in the future.
A tincture is basically distilled Lion's Mane, see more information here – https://northspore.com/products/lions-mane-tincture
Conclusion – Lion's Mane Is A Wonderful Daily Supplement
Lion's Mane powder offers the rare opportunity for a daily supplement that has a double-blind, peer reviewed study proving that it works. I take it daily and would recommend others give it a try too.