Introduction
I love daydreaming. Especially when it's something achievable and realistic. What makes this really exciting, is that it is something we can to do 4-7 years from now. This is the story of how I came up with a design and my dad came up with a business plan. I took inspiration from Growing Gourmet and Medicinal Mushrooms by Paul Stamets.
The Building We're Daydreaming About
We saw this property that had been vacant for a number of years and we thought it would be pretty interesting to see how the numbers would play out. In this building we could sell mushrooms in a little shop in the front, we could grow lots more mushrooms, and we could do farm tours and classes for how to grow mushrooms.
What Will We Put in This Building?
Here's the messy floor plan I drew to show how we would fill the space in this building: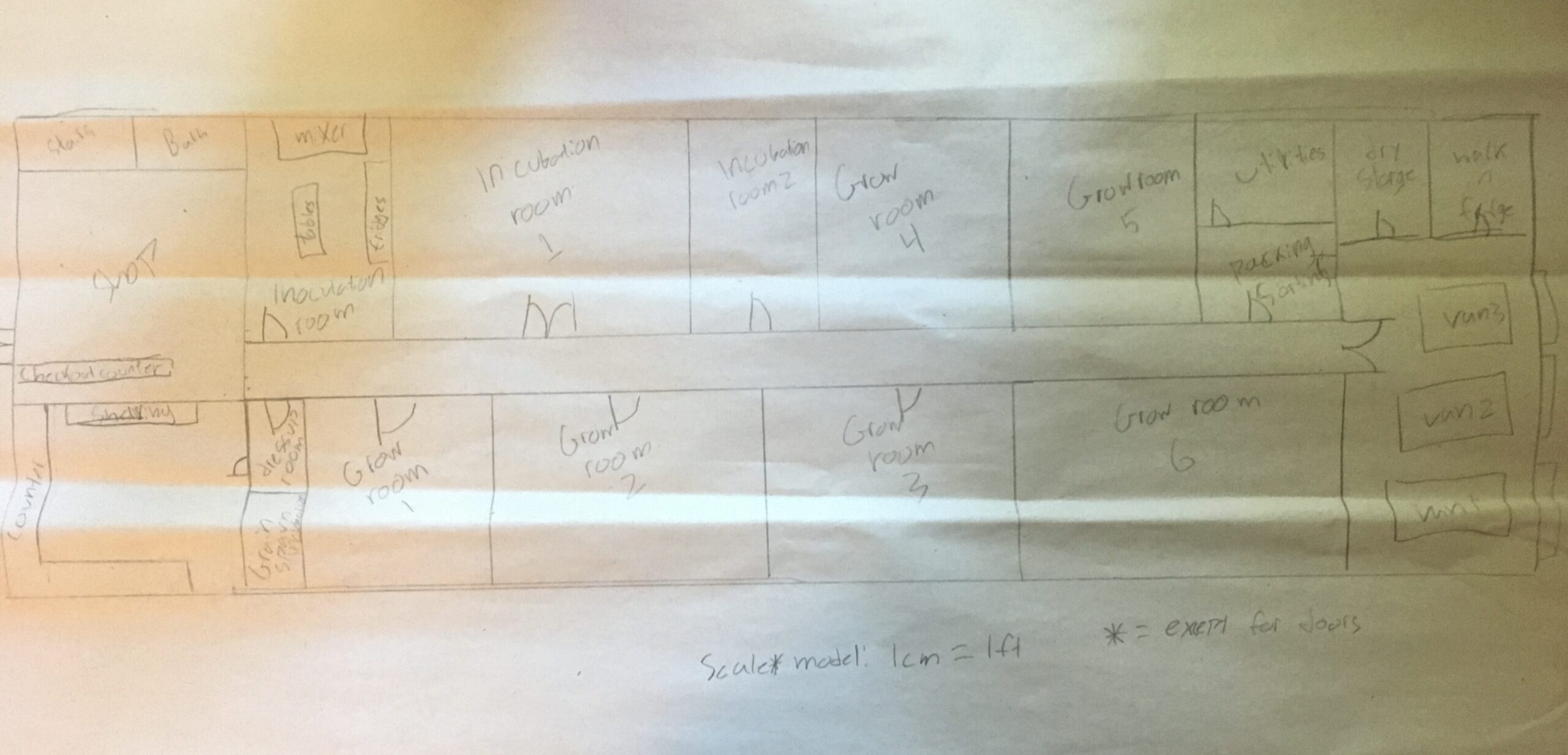 The description:
For Sale: 1801-1803 Central Street Evanston, Illinois 60202
A high traffic area on Central Street in Evanston, this high visibility property is steps from the Metra and Elevated Purple Line Trains. Located less than two blocks from Northwestern University's Ryan Field, this residential shopping district enjoys upscale bars and restaurants, the Evanston Arts Center, high-end residential rental, and much, much more.
The building was a clear span garage and has been vacant for several years. The building has 55 feet of frontage on Central Street. The property footprint is 8,525 square feet, 55 feet wide by 155-feet-deep. The owner/architect is willing to build to suit for the right buyer. This single-story structure also has a loft in the front of the building and a curb cut on Central Street. The structure is roughly 7,525 square feet. The front building is roughly 3,200 square feet with an open patio roughly 2,100 square feet in the middle and a back building roughly 2,200 square feet with room for approximately 8 to 12 parking spaces. There is a large roller door off the alley.
Possible floor plan provided with the listing:
Plat map:
Price: $1,150,000
Business Plan
How Will We Make Money?
We will make money by:
Selling Mushrooms (obviously)
Selling Mushroom powders
Doing farm tours and workshops
Selling coffee logs using spent coffee grounds
Our website (sweetgrounds.com)
What Mushrooms Will We Grow?
In this building we would grow the following mushrooms:
Oyster
Pink oyster
King Trumpet/Oyster
Snow Oyster (seasonal)
Golden Oyster (seasonal
Lion's Mane
Chestnut
Shiitake
Cordyceps
Maitake
Reishi
Turkey Tail
How Will We Get Our Substrate(Coffee Grounds)?
Getting our substrate is free because it is a waste product and also doesn't need to be sterilized. We will get them from local coffee shops and possibly, we might initiate a program where we collect coffee grounds from offices and people like you!
How Much Does It Cost To Buy Materials?
To start, cartons for fresh mushrooms are genrally less than a dollar per carton and as low as 25 cents when you buy in bulk. The same is true with packaging for dried mushrooms, and bottles for tinctures, supplements and things like that. As for spawn, the other major cost, it costs about $3.5 per pound for commercial, pre-made spawn. However, we would make our own spawn and we probably will start to do this regardless if we are in this building. Organic Rye Grain is about $1.50 per pound in a 50 pound bag. Including the cost of growing out the mycelium, and other stuff like that, it would probably end up around $2.00 to $2.50 per pound.
What About Labor?
In this facility, if my dad and I were working full time, we would probably only need one other worker, but I have school and my dad is the CEO of another company so he's busy too. We would probably need the following:
2 Mushroom-loving people to manage the growrooms and incolulations
1-2 Cashiers for the store.
How Much Money Will We Make?
Here's a google sheet plan we made to see how much money we could make: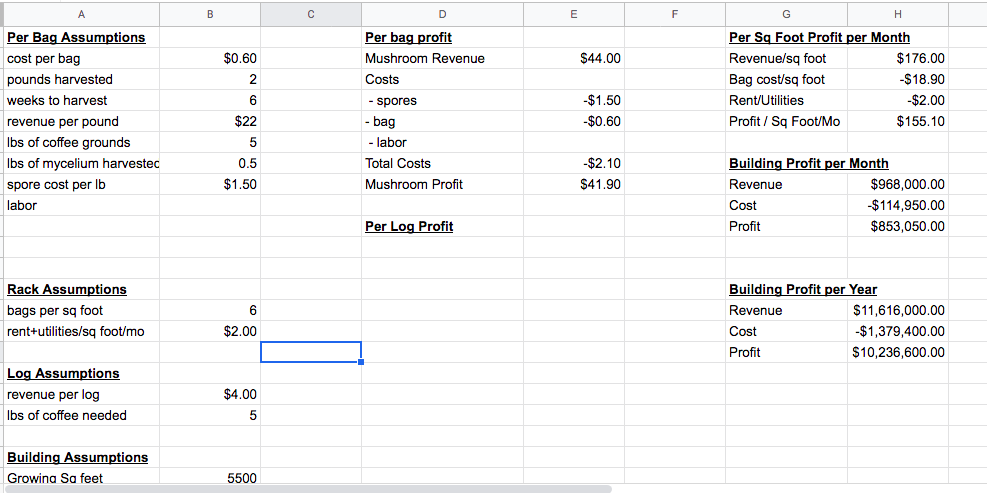 How Much Will We Sell Our Products for?
Some products we will sell in the future are fresh mushrooms, dried mushrooms, powder. Some products we might sell are supplements, teas, smoothie blends, and tincutes.
Fresh will be anywhere from $18-$22 per pound depending on the type
For dried we will sell them in 4-ounce bags for $15
We will offer other products too, such as powders and teas but we are going to figure out those later when we launch them.
Fireplace Logs!
Once we finish growing mushrooms on coffee grounds, we are going to turn them into coffee logs for use in the fireplace. We would sell the logs for $5 a log. We would also sell 4-packs of them for around $18.
In Conclusion…
Thanks for checking this out and we hope that this dream becomes reality one day. In the meantime, subscribe to our e-mail list for more and check out our other content for more information on mushrooms.